todoapp-backend

Rest API for todoapp written in Golang, using Clean Architecture and CI/CD (includes unit tests and integration tests).

Using:
Web framework: Gin
Authentication: JWT
Database (choose one out of three options):

In Memory DB
Microsoft SQL Server (using Gorm)
MongoDB

CI/CD:

GitHub Actions (Docker Image for testing)
Microsoft Azure Web App (Docker Image for deployment)
Note: Config to change database (default to In Memory DB)
Getting Started

Development environment needed:

Clone the project to your working directory
git clone https://github.com/daopmdean/todoapp-backend.git
This project support to run on
Memory Database
Microsoft SQL Server Database
MongoDB
Setup env on zsh
check to see if your environment declared
Example
export

 NAME=

'

Dean

'




echo

 

$NAME


-

>

 Dean
PORT: environment variable to setup the port your program running on.
If you don't set PORT env variable, Program will run on default port: http://localhost:5000
Example:
export

 PORT=3456
Your program will run on -

>

 http://localhost:3456
DB Mode

You can choose DB Mode to run with DB_MODE environment variable. If you do not provide any, default the program will run with memory db.
Memory DB

Run the program
MS SQL DB

Using ORM Library: Gorm
Setup env variables
DB_USERNAME: Username to connect to sql server
DB_PASSWORD: Password to connect to sql server
DB_HOST: Host to connect to sql server
DB_PORT: Port to connect to sql server
DB_NAME: Database name to connect to sql server

Example
export

 DB_USERNAME=sa


export

 [email protected]


export

 DB_HOST=localhost


export

 DB_PORT=1433


export

 DB_NAME=todoapp
Run the program
MongoDB

Setup env variables
MONGO_URI: Connection string to MongoDB
MONGO_DB_NAME: Database name
Run init mongodb to create indexes
Note: this command should run only once when initialize MongoDB
Run the program
Test

To run all tests

To run api tests

To run usecase tests

To run entity tests
System Architect

The system designed following The Clean Architecture guideline.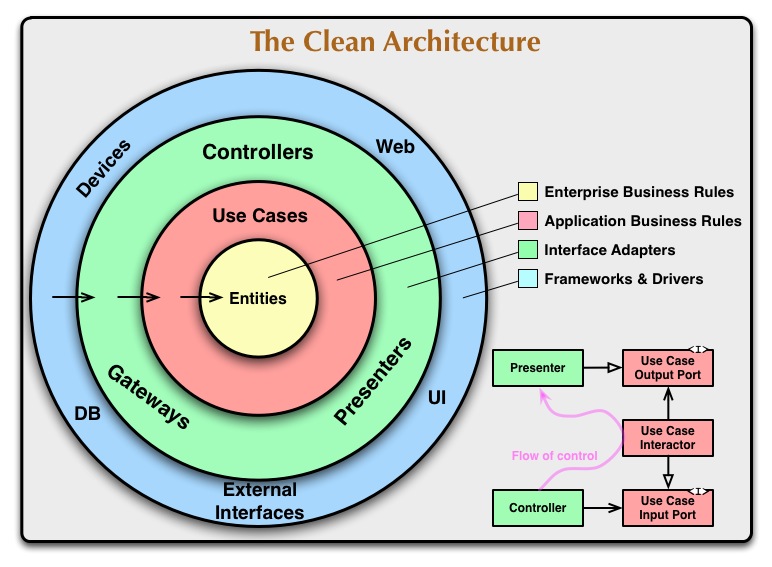 Project structure
todoapp
├── cmd/server
│   └── main.go
├── internal
│   └── adapter
│       └── http/rest
│       └── memdb
│       └── mssqldb
│       └── mongodb
│   └── common/config
│   └── entity
│   └── usecase
│       └── repo
└── test
    └── api_rest_test
    └── repomock

Annotate
cmd/server/main.go: run the program
adapter: store plugins that you can easily replace with another implementations
http/rest: store api handle http request with gin-gonic framework
memdb: implementations for memory db
mssqldb: implementations for microsoft sql server db
mongodb: implementations for mongodb
test: store test cases